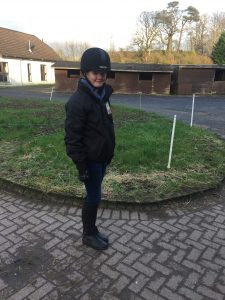 Top tips for what to wear when coming for your riding lesson
When starting out, we know that it can be expensive to buy riding equipment. Here are some top tips to help get you started, keeping you comfortable and safe.
Riding Hats – Hard hats are an essential item when riding and handling horses. At Easterton Farm Park we offer a wide selection of approved safety standard hats which you can borrow until you are ready to purchase your own.
When the time comes to purchase your own hat the key points to remember are:
Always get your hat fitted by a knowledgeable person. It is important that the hat is tight enough not to slip over your eyes, but not so much that it will hurt your head. It should have an even pressure all the way round the head. Remember each style of hat, even within the same brand, has a different shape so it is important to try on different hats to find the one that most suits the shape of your head. A trained hat fitter will be able to help and advise you about this.
Check that the hat you purchase meets these current safety standards. Believe it or not shops in the UK can sell hats which do not meet the current standards. Avoid the Forganza range at Decathalon, unfortunately these do not meet current standards and we will have to ask you to borrow one of our hats. Wearing a hat which does not meet current standards is a risk to your safety and voids all insurance.
The life expectancy of a helmet is 5 years and it is essential to replace them when this time period has lapsed. Importantly if the hat receives impact, such as from a bad fall or if it is dropped on a hard surface, it is likely that it will have internal damage, even if it looks fine on the surface. You should always consider replacing a hat following such an event.
Top half  – On cold days, layers are an excellent idea. This will allow you to take off layers when you get moving and heat up during your lesson. On the occasional warmer days, it is important that you still wear long sleeves to protect your arms. Try to avoid loose clothing, and jumpers and jackets with hoods, this will reduce the risk of clothing getting caught.
Trousers – Being comfortable is important, you should opt for a flexible material with a minimal seam on the inside leg. Thick leggings or sports trousers are ideal to get you started. Again, it is important to avoid loose fitting clothing as it may get caught. Jeans are very restrictive and have a thick seem so are not practical for riding.
Footwear – Wearing the correct footwear will not only keep you safe but it will also help your position when riding. Sturdy boots with a small tread on the sole and a small chucky heel are ideal. The tread will allow grip in the stirrup and the heel will prevent your foot slipping through the stirrup and getting stuck. Trainers are not suitable for any form of riding and welly boots are not a good idea either. We would recommend that suitable riding shoes are your first purchase.
Other important things to consider:
Gloves – should ALWAYS be worn when riding
Long hair – should ALWAYS be tied back
Jewellery – should NEVER be worm when riding
Body protectors – are NOT essential but a good idea for extra protection
If you are looking to purchase any riding equipment or require help to fit and buy a hat we recommend MJR Equine Supplies.
If you ask a member of staff at Easterton, we can help you organise a 10% discount with them.
They can be found at:
4 Old Mill Park Industrial Estate
Kirkintilloch
G66 1SS
We hope you have found this helpful. If you have any questions or would like more information please get in touch and we would be happy to help – info@eastertonfarmpark.com