The staff here at Easterton Farm Park have been eager to spread their wings and welcome several different animals to join the horses here. Following a lot of debate about which animals would be best suited for stables life, the team decided that Chickens would be the next adventure. They spent hours researching where to get chickens, how to house, feed and keep them healthy. Along the way the discovered the wonderful charity British Hen Welfare Trust, who save battery hens and rehome them.  After contacting the charity and listening to their advice, we reserved 4 hens for rehoming. (Yes the original vision was just 4!)
Next stage of the hen story, where to keep them?  This is where the team got creative! After a few searches and a few ideas, we decided on trying to acquire a hut of some sort to house the new arrivals in our Hay barn. Luck was on our side and we found a local lady giving away her old garden hut.
The renovation begins – We hammered, screwed, built and painted the old hut. We adding nesting boxes, shelves, water drinkers, feeders, decorative touches and of course the necessary things to keep the girls comfy. Here are some before and after pictures.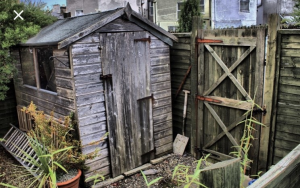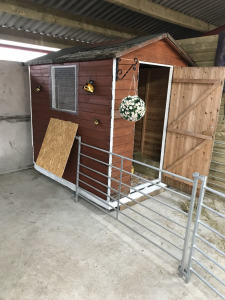 Next chapter was to welcome the Hens!! So off we headed to a pick up point in Denny with a big airy cage for 5* transport. On arrival we were met by the helpful charity team, they explained there were lots of hens who still had to find new homes. So as you do, we made the on spot decision and ended up helping 6 little ladies out. Here they are below on their journey home and then exploring their new home.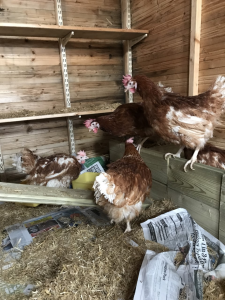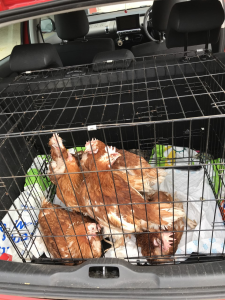 We are happy to report the 6 girls have settled in to Easterton Farm Park life very nicely. The hens now have free range of the farm from morning till night and are safely tucked up in there comfy hen house over night. Due to the nature of rehoming, it is normal for the chickens to look a little out of sorts for a while, you will notice some missing feathers and pale crests. As the girls settle in to their new free range life style you will see them getting healthier  with feather growing back, crests getting redder and plump bellies.
The only question left is, what animal should we introduce next? All suggestions welcomed below!